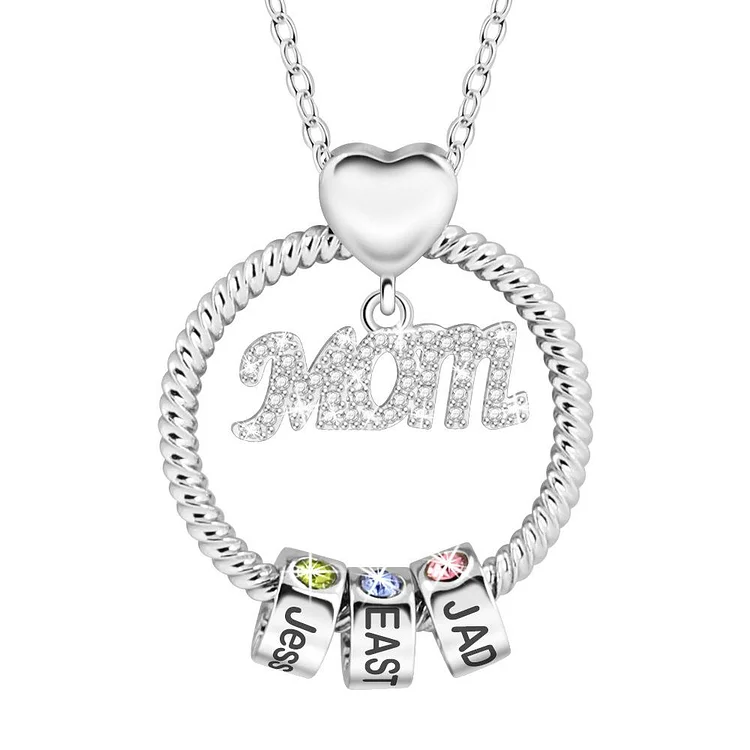 👨‍👩‍👧‍👦Customized Engraved With BirthStone👨‍👩‍👧‍👦
🎁The Unique Gift For Mom🎁
Remarks name and birthstone, format 1st name is and stone is ..., 2nd name is and 2nd stones are...(If no notes, it won't be shipped out)

DESCRIPTION
A letter to mom.
'Dear mom, 
I belive you can do anything,
Because for us, you've done everything. You
Like a nurse, you take care of what we hurts.
Like a map, you helped us find our way.
Like a library, you answer all of our questions.
Like a superhero, you save the day.
Like the ocean, always be there.
Like no one else, you always behind us.
Like home, you are where our hearts are.
Love you forever
--Your Kids'
DETAIL
This Engraved Mom Birthstone Necklace is perfect for moms and just right for grandmas, too! This charming pendant is lovingly engraved with the word "Mom" on top, and the bottom detailed with up to six children's names on the other. A birthstone complements each of the kids' names, adding rich of meanings to the necklace.
It is nickel-free, lead-free, cadmium-free and hypoallergenic.
Size of neckalce pendant: 3.2cm×2.5cm(1.25inch×0.98inch).
With an adjustable chain for ideal length and comfort between 45cm - 50cm (17.5in + 19.6in).
QUESTION ABOUT CUSTOMIZED
1. Can the "Mom" engraved on the left side be personalized? 
For this design, the "Mom" engraving comes with the default design.
2. Can it be engraved in a different language other than English?
Yes, it can also be engraved in Arabic. Accents are also acceptable.
3. Can I order this item without birthstones?
Sorry, birthstones are required on this item.
4. Will the engraving arrive as shown in the photo?
Yes, the jewelry arrives as shown and the first letter is capitalized.
5. Can I add more characters to an engraving than what is mentioned onsite?
Sorry, the character limitation that is mentioned onsite is the maximum we can allow in order to keep the right proportions and font size for this item.
6. Birthday Stones.

Other Questions, please feel free to contact [email protected] via email.
WEARING
PACKAGE INCLUDES
1 x "Birthstone Family & Mother's Necklace" - Customized Necklace
1 x free gift bag
SHIP FROM US
SHIP FROM US
Look no further! This ROSE BEAR for mom only 200 left, ships from US and you will get it in 3-7 business days! Act fast! Don't wait until the last minute to show your mom how much you care – order now and give her a gift that she'll treasure forever.
ONLY 200 LEFT
ONLY 200 LEFT
This ROSE BEAR is handmade with love and care, crafted with over 200 soft, silky, and durable faux roses that are arranged to form a cute and cuddly teddy bear. Each rose is carefully selected to ensure that the bear looks stunning and feels soft to the touch!