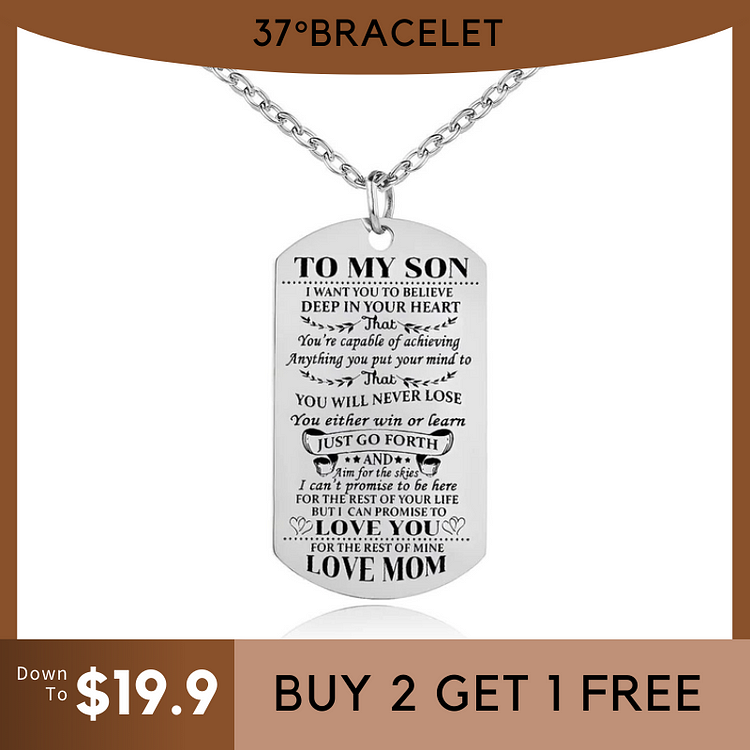 Description
These ain't the cheapo quality dog tag necklaces you have  seen all over social media, these are thick, 316 Stainless Steel and made to last a lifetime! 
The 20 inch Stainless Steel chain with 2 inch extension is equally strong as well.  
 These are NOT available in stores! 
Engraved phrase is:
TO MY SON,
I want you to believe deep in your heart. That you're capable of achieving Anything you put your mind to. That YOU WILL NEVER LOSE, You either win or learn. Just go forth and aim for the skies, I can't promise to be here for the rest of your life, but I can promise to love you for the rest of mine.
Love, Mom.
Product Details
Premium high-strength 316 Stainless Steel
Deep Engraved design with permanent black enamel inlay

Water proof, rust proof, and life proof

Pendant measures 2" x 1.25"

20 inch high-strength chain w/ 2 inch extension and lobster clasp
⚠️ Don't miss out on these, Add to cart and order now before they're sold out again!