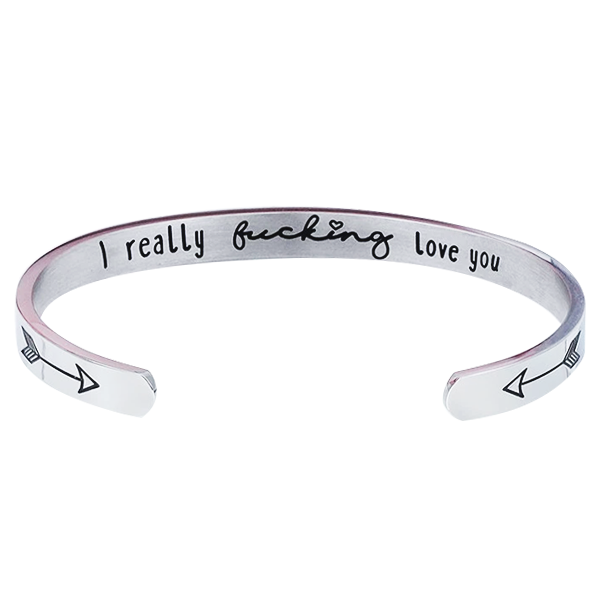 The day I met you, my life changed.
The way you make me feel is hard to explain.
You make me smile in a special kind of way.
YOU MAKE ME FEEL DEEPER IN LOVE EVERYDAY.
I REALLY FUCKING LOVE YOU!
Reviews
"Looks of Rich quality. Plus the script inside is a nice feature. I didn't really give it much thought until I saw my wife put it on..... and then it hit me. Outside has a clean finished look to any of her attire on any given night. And at the same time the loving words are unseen by anyone other than her knowing it's there. There's something to that.... just sayn!"
- Ben, Philadelphia, US
"These are so adorable. I do recommend you purchase them. My boyfriend and I don't take them off for anything not even to shower and they do not have any scratches the engraving is still good."
- Jessica, Seattle, US
Details
The cuff bracelet is made of 316L stainless steel, stronger and more durable, will never fade, tarnish, corrode, stain, or cause allergic responses. Nickel free, 100% in harmony with the wrist.

Measurements: Diameter 2.5" W/0.24", L/6.2". Adjustable openings designed to fit most wrists.
SHIP FROM US
SHIP FROM US
Look no further! This ROSE BEAR for mom only 200 left, ships from US and you will get it in 3-7 business days! Act fast! Don't wait until the last minute to show your mom how much you care – order now and give her a gift that she'll treasure forever.
ONLY 200 LEFT
ONLY 200 LEFT
This ROSE BEAR is handmade with love and care, crafted with over 200 soft, silky, and durable faux roses that are arranged to form a cute and cuddly teddy bear. Each rose is carefully selected to ensure that the bear looks stunning and feels soft to the touch!