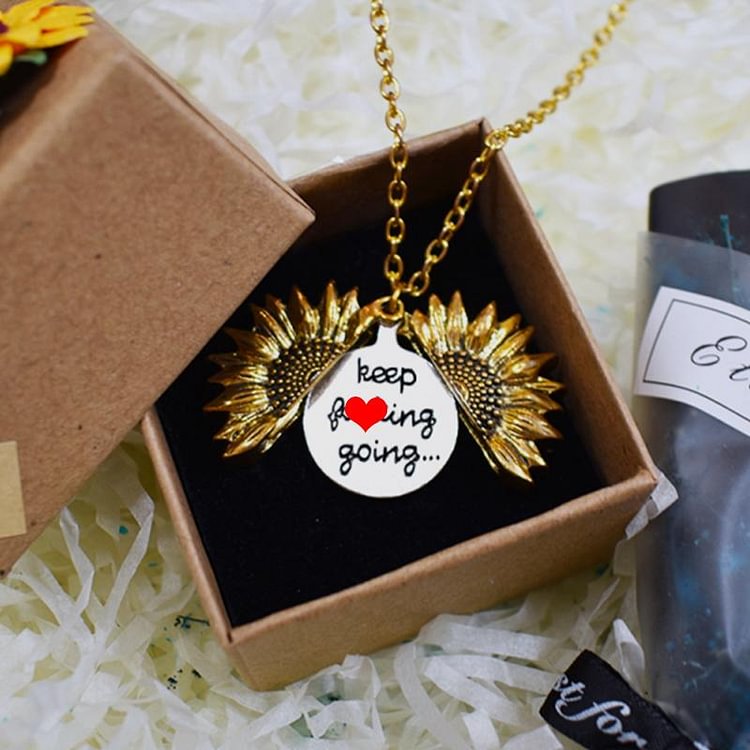 the soul reading this.
I konw you are tired.
You are fed up.
You are close to breaking down.
But there's strength within you...
Even when you feel weak.
Keep going.
Be a sunflower.
Even in the darkest days.
Stand tall and find the light.
WHAT PEOPLE SAY
"Bought the inner engraved necklace for my myself after some very stressful emotions during this pendemic. Need to do things harder to keep my life not being out of control. This necklace is just a great reminder for me to "keep f'ing going" without announcing it to the world. The situation sucks today, but at least tomorrow is expected."
- Lisa
"This necklace was perfect for her, and even though it was one of her smaller gifts, she absolutely loved it. Little reminders in a big world can go a long way to help someone get through even the darkest times."
- Shannon, Bought this as a gift for her sister with breast cancer!
"Want to meet friends, to party, to travel...but still have to stay at home for unknown days, ugh!!! I'm so frustrated and depressed and need something to cheeer me up. And then this necklace appeared. I know, someone would say the words on it are not proper. Well, screw that, I need the strength so bad right now, KEEP F'G GOING!!!!"
- Amy
It is nickel-free, lead-free, cadmium-free and hypoallergenic. 
With an adjustable chain for ideal length and comfort between 48cm - 53cm (17.5in + 19.4in).
PACKAGE INCLUDES
1 x "Keep f*cking going" - Sunflower Necklace
1 x gift bag