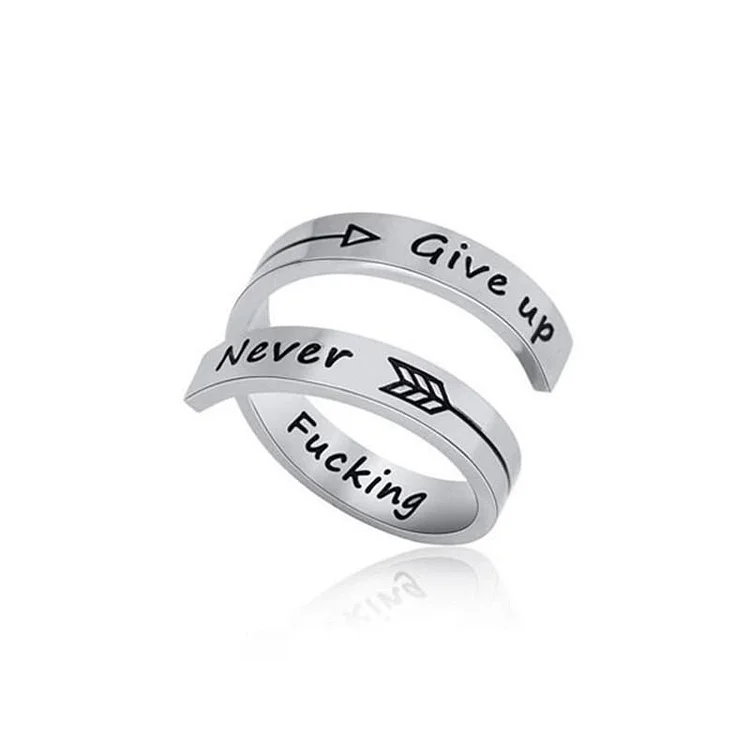 DESCRIPTION
When you feel like giving up, please remember,
F.A.I.L is not fail, but means ''First Attempt In Learning'',
E.N.D is not end, but means ''Effort Never Dies'',
N.O is not no, but means, ''Next Opportunity''.
The pain of the day
Is the victory of tomorrow.
Never give up!
You only get one life. Go for it!
CUSTOMER FEEDBACK
''This is actually an awesome ring.I gifted it to my son as he was going through some tough life things. It was a nice little reminder! The lettering is clear and the font well done. I have purchased a few simple little jewelry gift boxes for them. It was good perfect!''

—Melissa
 ''Just got the ring in and it's exactly as expected. It's a very nice look. I was getting tired of all the shiny rings at other places cus that doesn't fit my life. It looks and feels strong. Much more durable than the hollowed out ring I was seeing at stores. Also the customer service was excellent I had a couple questions and they were able to help me with everything. ''
—Grace
SPECIFICATIONS
adjustable size
made of stainless steel
wide: 4.5mm
thickness: 1.5mm
SHIP FROM US
SHIP FROM US
Look no further! This ROSE BEAR for mom only 200 left, ships from US and you will get it in 3-7 business days! Act fast! Don't wait until the last minute to show your mom how much you care – order now and give her a gift that she'll treasure forever.
ONLY 200 LEFT
ONLY 200 LEFT
This ROSE BEAR is handmade with love and care, crafted with over 200 soft, silky, and durable faux roses that are arranged to form a cute and cuddly teddy bear. Each rose is carefully selected to ensure that the bear looks stunning and feels soft to the touch!