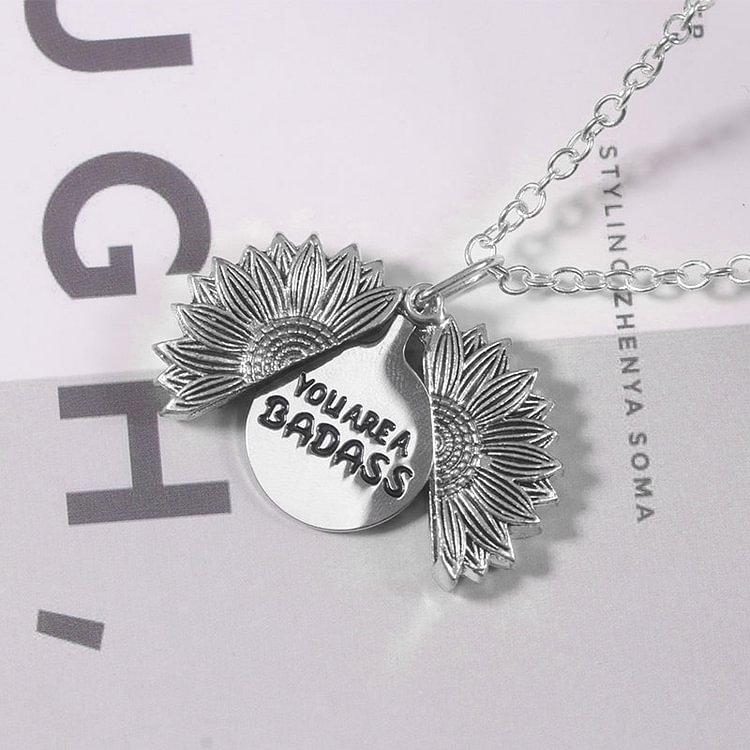 💌Perfect gift for birthday, graduation, normal occasion!💌
DESCRIPTION
Sometimes
You need to give yourself
A pep talk.
Like,
Hello.
YOU ARE A BADASS.
Don't be sad.
You got this&
I LOVE YOU
DESIGN INSPIRATION
Life isn't so simple, everyone has theirselves tough time. We may feel upset, weak and hopeless. But that's no reason to stay down for long, you need some reminder to stand up! Tell yourself, 'You are a badass!'  You are braver than you believe, stronger than you seem, smarter than you think. So just face it!
It's a perfect gift for people who is going through hard times, give them strong faith that they can do it! It must be appreciated.
WHAT PEOPLE SAY
'I ordered 7 of these total to share with my team at work (bought just one to check the quality, and after it arrived, ordered six more). Love our inside joke hidden on the underside. In all this is a cute, simple little necklace. Quality matches the price.'
-Donna
'My sister is 16 and about to start her journey into adulthood. She is very smart and has never done anything wrong in her life. I got this because I am known as the black sheep of the family. I am the what not to do example. So this couldnt have been any more perfect coming from me. She can hide the words and know that her sister is really there for her.'
-Summer
SPECIFICATIONS
It is nickel-free, lead-free, cadmium-free and hypoallergenic. 
Size of neckalce pendant: 3.5cm*3cm(1.38in*1.18in)
With an adjustable chain for ideal length and comfort between 48cm - 53cm (17.5in + 19.4in).
COMPARISON
There are 4 stable buckle to connect the chain and pendant, so it won't twist around.

Electroplating and details are upgraded. Made of high-quality alloys with long-lasting color plating effects.
PACKAGE INCLUDES

General Pack
1 x You Are A Badass Sunflower Necklace
1 x free gift bag
Gift Pack
1 x You Are A Badass Sunflower Necklace
1 x Full-designed gift card
1 x Gift box
Eternal Love Gift Pack
1 x You Are A Badass Sunflower Necklace
1 x Eternal Love Gift box